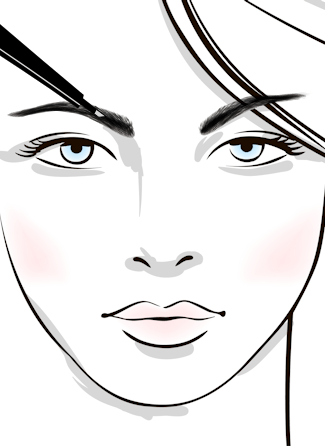 To create a gorgeous fuller brow similar to applying a brow powder
A  Powder or Ombre Brow is a soft shading technique using a digital machine to create the ultimate powdered effect as similar to applying a brow powder. The look can be as soft or as bold as you like as the pigment is gently built up in layers to achieve a soft pixilated powder effect. The ultimate powder brow is achieved with soft beginnings at the front, gradually building up a colour and defined shape.
Who is it for?
A powder brow is an excellent option if you have some hair growth and feel that effect of hairstrokes alone will be too much of a natural appearance for the look you want to achieve.
What to expect
As with all treatments, the first step will be a consultation. We will discuss your current brow shape and what you are looking to achieve. Then with conventional cosmetics we will design your ideal shape by drawing a template onto your brows. Before the treatments begins, a bespoke pigment colour is mixed to match your natural brow hair perfectly.  We can refine the template also to ensure you are fully satisfied with the design and colour.
We recommend maintenance every 12-18 months with annual colour-boost.
FREQUENTLY ASKED QUESTIONS
We use topical anaesthetics throughout the treatment to ensure you are as comfortable as possible and that any discomfort is kept to an absolute minimum.
Providing that there are no medical contraindications anyone over the age of 18 can have permanent Cosmetics. Before your treatment date, you will receive medical forms to complete, do let us know prior to your treatment if you do have any medical concerns.
A patch test is also required to ensure there are no adverse reactions to the pigment and anaesthetic used during the treatment. I ensure a full consultation is always carried out before the treatments begins.
The pigment used is designed to breakdown in the skin over time. The treatment can last several years, but this is dependent on skin tone, skin type, sun exposure, lifestyle and medication. With this in mind, we recommend a colourboost 12-18 months after your initial treatment.
Treatments vary in length. From start to finish I recommend 120 minutes is set aside for new clients. A colourboost treatment normally takes around 90 minutes – 120 minutes.
Timings are as follows:
pre-numbing of the area: 20 minutes
template design with client approval: 20 minutes
treatment time: 60 minutes.
Please always ensure you allow enough time for your treatment and aim to arrive 10 minutes earlier.
We will ensure you are fully prepared for your treatment by supplying pre-treatment instructions, which will include advice on timings of tinting, waxing etc. prior to treatment.  The pre-treatment advice and aftercare instructions will be included in your welcome pack/sensitivity test kit on booking your treatment.
Following your treatment you may experience some pinkness of the skin and mild swelling. Around Day 4 there may be some gentle exfoliation of the skin. This reaction can be minimised by following the aftercare advice and applying the healing ointment. Immediately after the treatment the pigment will appear darker due to the pigment oxidising in the skin.
Once the healing process takes place the treated area will lighten in colour by up to 60%. I recommend all clients to return for the complimentary refill appointment 6 weeks after the initial treatment, which allows me to fine tune your permanent make up results.
Who doesn't want to look their best throughout the day no matter what you do?
Swimming? Gym? Short of time? No problem! Permanent Make up is designed to enhance your natural features without invasive surgery. This revolutionary treatment is designed to define brows, eyes and lips without the effort of time consuming make up rituals. Perfectly Applied by professionals, staying perfectly in place for months at a time.
Yes.
The manufacturer of the Biotek (R) pigment range has acquired over 13 years of clinical and pharmacological experience in the production of pigments. The pigment series meets all the requirements of the European Resolution ResAP, which govern the use of tattoo and micro-pigmentation pigments in Europe.
Pigments have been manufactured with clients' safety in mind.
Ingredients that are known for inducing skin intolerance, photo-sensitivity or triggering allergies have been avoided. We can therefore guarantee a product that is sterile and exhibits perfect traceability.
In addition to the above, needles are only used once and are disposed of safely immediately after each procedure.
Preparation and openness is the key to a successful result
We always take great care to discuss treatments clearly. Our goal is to achieve the look you desire and enhance your facial features only as you like. It is also important that you have an good idea of what you want to achieve.
We take time to discuss the look within an initial consultation. Then we create a visual template of the look. Once you are happy and give your agreement, then we will proceed with the treatment.
Your happiness is essential to us and there is no pressure at any point to 'go further' than you want.  We also offer a follow up each appointment a month after the initial enhancement so that we can pay particular attention to fine detail and ensure you are completely satisfied with the result.
High quality and safe
At Perfectly Applied we use the most advanced and latest equipment. Cosmedic permanent cosmetics brand is synonymous with quality. Like medical equipment, our equipment is designed to be safe against cross contamination and fully disposable 'single use only' applicator cartridges are used for your complete safety and peace of mind.
All equipment complies with Health and Safety requirements. Our premises are fully licensed by the local authority and so are we!
Price includes a complimentary refill session
Your treatment plan includes a complimentary refill session within 8 weeks from the initial treatment to ensure your enhancement is perfected.